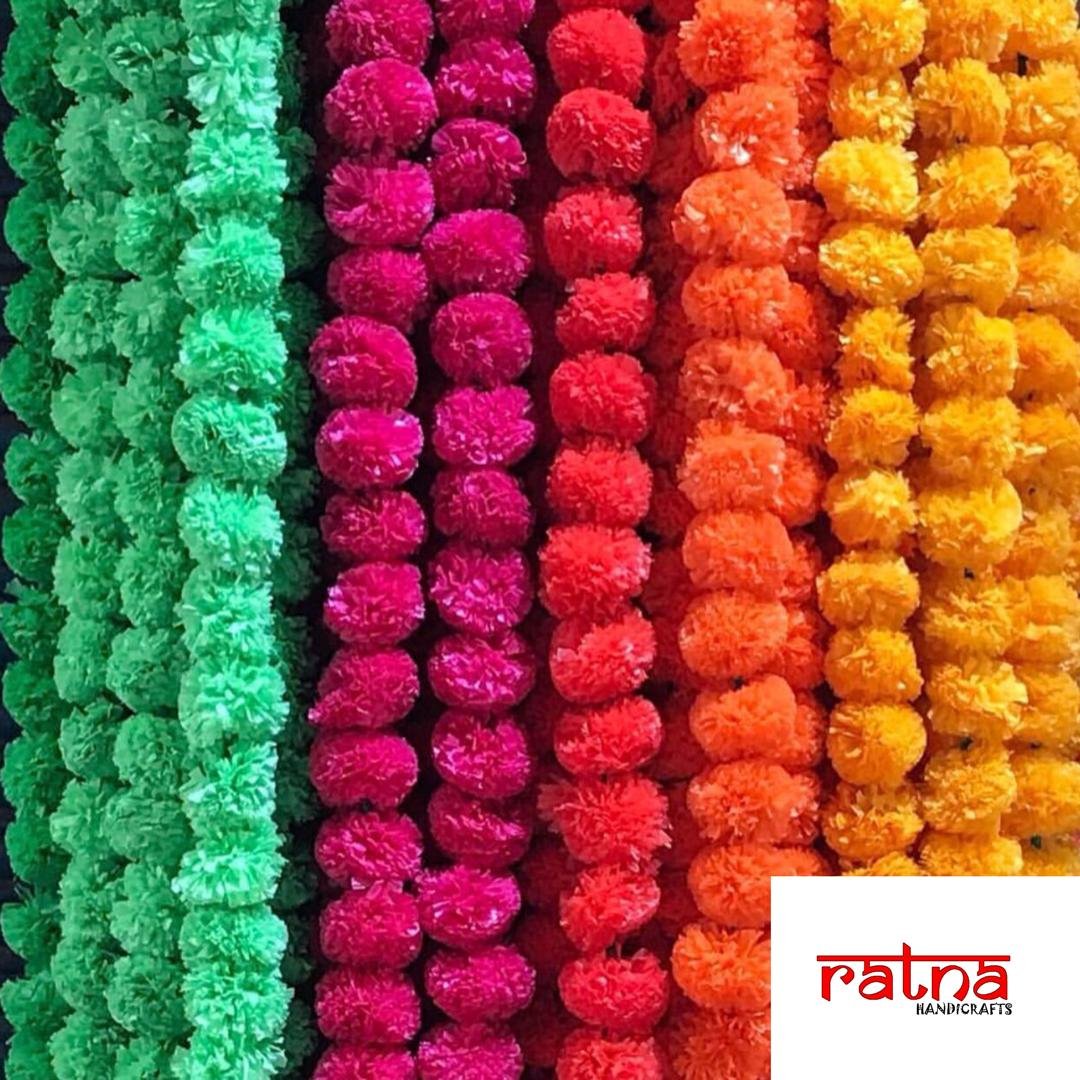 8 Tips to make your occasions look Beautiful with Ratna Handicrafts
8 ColourFul Ratna Handicrafts Artificial Marigold strings.
Nowadays, where the people like to save much and try to invest on something relevant and re-usable, we at RATNA HANDICRAFTS try to handcraft the best one possible.
From a wide range of festival decoratives to wedding decorations and wedding essentials, from Pooja (worship) products to pooja essential items, we try to creatively design all by our own and deliver to our customers in INDIA and ABROAD.
Recently(not to recent though), we came up with these beautiful garlands that look fresh and similar to the original marigold flowers and we created an entire range of these to make every FESTIVAL look Beautiful, Graceful and exta-ordinary.
Be it a Simple closed family affair, or a big fat Indian Wedding,
Be it an amazing temple wedding or an extravaganza destination wedding,
Be it a nuclear family function or a big fat Family Function these marigolds and these colourful marigold strings can be recreated, customized, colour coordinated and one can always create a fusion of these as well.
Ratna Handicrafts Artificial Marigold flower strings are not only beautiful but are all made with love by our artisans & crafters with hand.
We have done different Variations of these for you as well.
All the images will do justice to your believe in the real decorations for events that may include all festivals, occasions, rituals, weddings amongst others.

AT RATNA HANDICRAFTS we are the Manufacturers and Wholesalers for all our products.
You can visit us at: Ratna Handicrats
Like our page on Facebook
Follow us on Instagram
Thank you for reading our blog.
Contact us for more details.